(7) Including an ActiveX DLL with an Application's Install
Registering an ActiveX manually or with a script is fine if the application only runs on a few computers or servers. If an application is to be installed on many computers, then using a reputable and mature application installer is best.
Most Windows installer programs provide easy-to-use features for including an ActiveX DLL and automatically registering the DLL during install.
Some common Windows installer packages are:
Visual Studio may also have features to create setup & deployment projects to create .msi installers.
Many more installer programs exist, these are only examples and not recommendations.
Some installer programs provide options to include VC++ runtime redists via merge modules.
For example, here is a screenshot of Advanced Installer
(click on the image for a full size screen shot)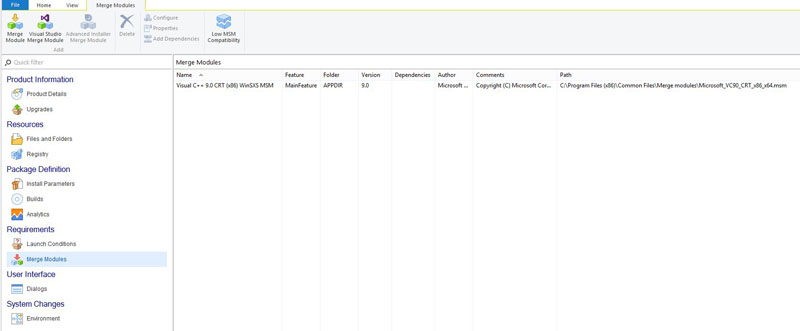 ActiveX Registration Tutorial - Page 6

Privacy Statement. Copyright 2000-2022 Chilkat Software, Inc. All rights reserved.
(Regarding the usage of the Android logo) Portions of this page are reproduced from work created and shared by Google and used according to terms
described in the Creative Commons 3.0 Attribution License.
Send feedback to info@chilkatsoft.com
Software APIs, modules, components, and libraries for Windows, Linux, MacOS, iOS, Android™, Solaris, MinGW, ...